The REDCap Mobile App (offline data collection) and MyCap are two mobile applications that help extended REDCap's functionality.
The REDCap Mobile App is a tool for data collectors needing to capture data offline. Data can be collected on the REDCap Mobile App on an iPhone, iPad, or Android phone or tablet. More details and documents about the mobile app can be found below.
MyCap makes it easy for researchers to capture participant/patient reported outcomes using mobile devices. For more information visit: https://projectmycap.org/
The comparison chart below provides a detailed comparison between the two applications.
Mobile Applications Comparison Chart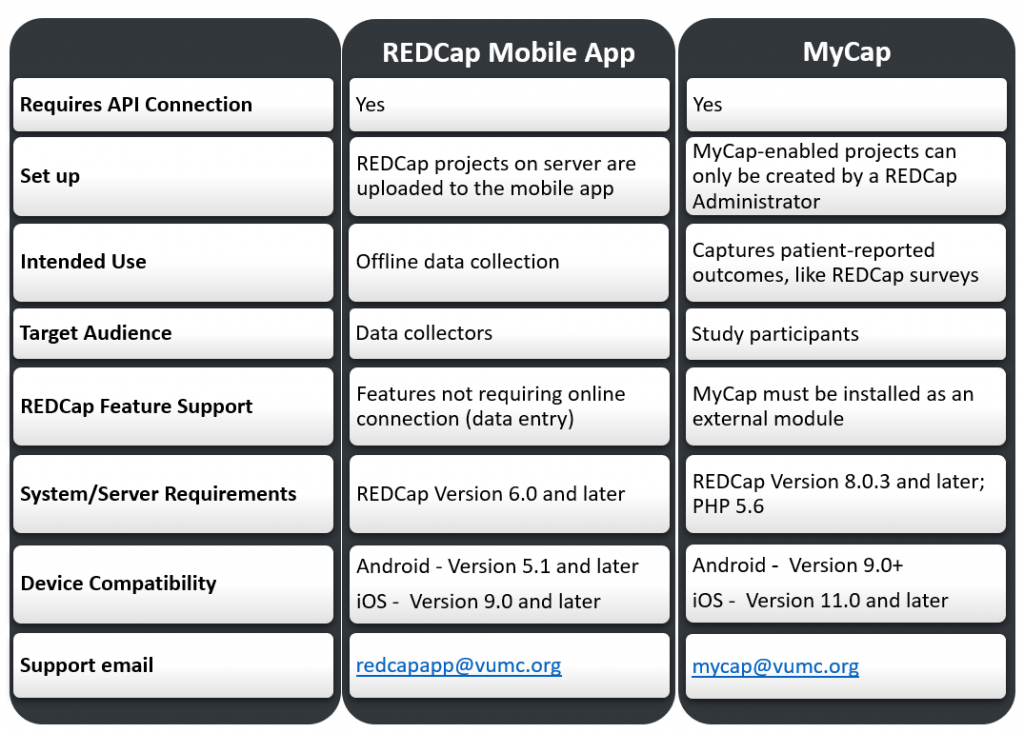 REDCap users can collect their REDCap data in a mobile app on an iPhone, iPad, or Android phone or tablet. The REDCap Mobile App adds a new dimension to REDCap's versatility by providing users with a tool for offline data collection, particularly in environments with poor Internet connectivity. The app cannot be used on its own but is a companion app that must be used alongside REDCap itself (you must first be a REDCap user at a REDCap partner institution before you can utilize the mobile app).
Documents on the Mobile App
To learn more, check out the About the Mobile App document or the REDCap Mobile App In-Depth Guide.
If you are interested in the details of what security standards are applied in the app, please see the Mobile App Security document.
Various people in the REDCap Consortium have shared their documents to serve as templates for other REDCap or Project Administrators. Below are the results of their contributions:
Training Videos